The Most Powerful Video Publishing & Syndication System Invented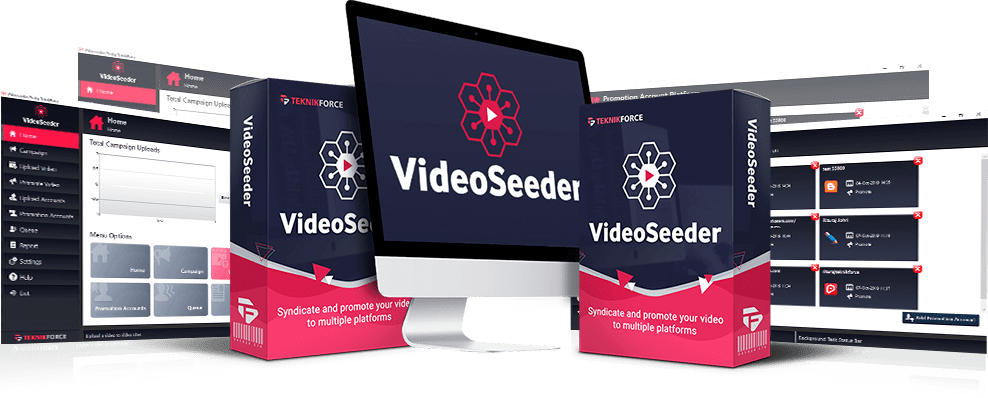 Post your videos on blogs likes like WordPress & Blogger.
Get high-quality backlinks from powerful sites and climb up the SERPs.
Show up on all the popular sites and dominate your niche completely.
100% safe and approved application that uses authorized platform APIs.
Runs from your computer, not a server (your IP) and protects you from being marked spam due to others.
Publish your video on 5 video sites.
Promote your videos on 10 social media & bookmarking sites
Totally hands-free. Schedule & forget. Videoseeder takes care of it.
Drive social media traffic to your videos and get more views on your YouTube videos.
Build up a solid subscriber video subscriber base sourcing traffic from all around the web.
Support for Spintext makes every post 100% unique and fresh.
Top Google & YouTube Rankings + Social Traffic So Easy That You Can Do This In Your Sleep
Set Up Campaigns To Auto-Upload Your Videos
Set up campaigns and automatically upload your videos to multiple channels on the most popular video sites on full auto-pilot
Single-Click Upload Any Video
Add all your video accounts and drip-upload videos everywhere with just a single click.
Create Powerful Video Promotion Campaigns
Promote your videos on every social network in a drip-feed manner without going insane posting endlessly.
Promote Videos To Multiple Social Networks In One Click
Drip-promote your videos on all your social network accounts in one-click
Publish Your Videos As Articles To Multiple Blog Platforms
Get backlink juice and power your top rankings by auto-posting your videos as articles to multiple blog platforms.
Select From A Huge Collection Of Popular Platforms
Videoseeder Supports All Your Favorite traffic boosting platforms. Select the ones you want.